Funabashi, the place loved by Dazai Osamu
His most beloved place
He was born in a village called Kanagi (now the city Goshogawara) in the Kitatsugaru District of Aomori Prefecture. He wrote several well-known novels, including Fugaku Hyakkei (One hundred views of Mount Fuji), Hashire Merosu (Run, Melos!), Tsugaru (Tsugaru), Shayo (The Setting Sun), and Ningen Shikkaku (No Longer Human). In 1948, he drowned himself in the Tamagawa Canal in Mitaka Village (now Mitaka City) in the Kitatama District, dying at the young age of 39.
Dazai who had a disturbed personal life, social difficulties, and an addiction to painkillers, remains adored by many readers even today, but he is remembered as a person who was pessimistic and decadent.
He was born to a wealthy landowning family, but left his home in Tsugaru, moving several times around the Tokyo area, sprinting through his short life at top speed.
In his memoir, Jugonenkan (Fifteen Years; 1946), he wrote that the place he loved most was Funabashi.

15-month stay in Funabashi
Dazai developed appendicitis that caused peritonitis and became addicted to a painkiller called Pavinal. To recover, he moved from Suginami, Tokyo, to Funabashi on July 1, 1935, at age 26.Dazai spent 15 months here with his common-law wife, Hatsuyo.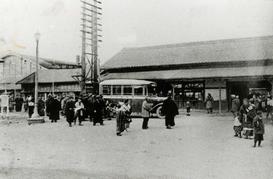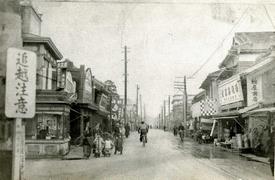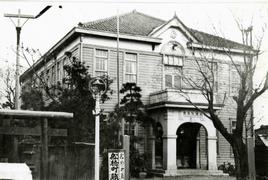 *All these photos are from the early Showa years.In order from the first photo, they show the south exit of Japanese National Railways Funabashi Station, Honcho street (going straight from the south exit of Funabashi Station), and the Funabashi town office.
Although his stay was brief, Dazai's time in Funabashi was intense, and you can still see the places that were connected to him.Here are some spots that all Dazai fans must see.
Rented house next to the Ebigawa River
Dazai's former home was a newly built rental house on 1928 Itsukaichi Honjuku Funabashi-machi, Higashikatsushika District, Chiba Prefecture.The current address is 1-Chome, Miyamoto, Funabashi.It is less than a 10-minute walk from Funabashi Station.
A different residence sits in the place where the rental house once stood.To those who know the bustle of the Funabashi station front area, it is in a surprisingly quiet residential area nestled among a labyrinth of narrow streets.Hardly any vehicles pass through the streets.Nearby, the Ebigawa River still flows tranquilly to this day.
Oleander tree loved by Dazai
It is said that Dazai was given an oleander tree from a neighbor shortly after moving into his house in Funabashi and planted it in his own garden.Oleanders were rare in Tsugaru (present Aomori and northwest part of Iwate prefecture) where he came from.Later, when he moved out, it is said that he spoke of his love for the tree and cried.
Excerpt from the Mekura Short Stories (1936)
"I moved to this place on July 1, 1935.Around the middle of August, I became dizzy with fascination of the three oleander trees in the garden next door.I wanted one.I asked my wife to ask my next-door neighbor to please give me one, any one, of the trees."
The oleander tree Dazai was given from the person next door and planted in his own garden was transplanted to the area in front of the Central Community Center in 1983 where it can still be seen to this day.A literature monument was also erected nearby.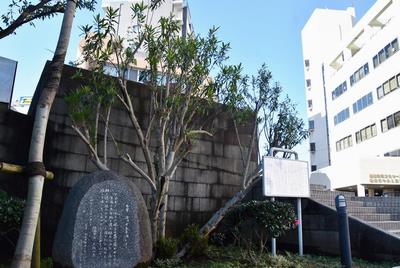 (Address) 2-2-5 Honcho, Funabashi
【Closed】Kappo Ryokan Tamagawa where Dazai spent his time writing
When Dazai fans hear 'Tamagawa,' they likely think of the Tamagawa Canal where Dazai drowned himself and ended his life.
Remarkably, there is a Japanese inn with the same name, Tamagawa, in Funabashi as well.
Built in 1921, Kappo Ryokan Tamagawa is a historical purely-Japanese style inn. It still receives many visitors for banquets and overnight stays, and it is one of the leading Japanese inns in Funabashi. In 2008, it was designated a registered tangible cultural property of Japan.
Dazai is said to have stayed in the Kikkyo no Ma room in this Tamagawa Inn for 20 days writing a novel.He could not pay the accommodation fees, and instead left books and fountain pens at the inn as payment, but these were lost to a fire in the main building of the inn in 1976.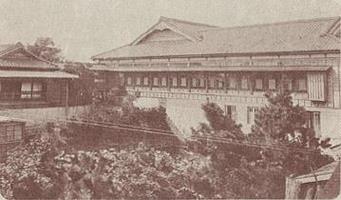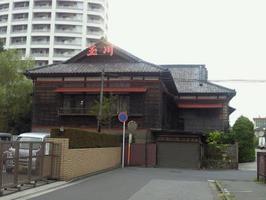 *1st photo: Tamagawa Inn in the early Showa period
2nd photo: Tamagawa Inn today
(Address) 2-6-25 Minatocho, Funabashi
Kokonoebashi Bridge
The Kokonoebashi Bridge was built over the Ebigawa River around 1934.The current bridge was rebuilt in 1988, so it is not the one Dazai walked on, but it is near his former home, and so it commemorates Dazai with a stone book embossed with his portrait, a chronological record of his work, and a passage from Hashire Merosu (Run, Melos!), and embossed plates of scenes from his novel on the railing
.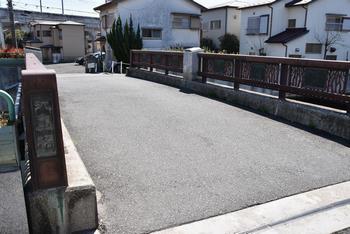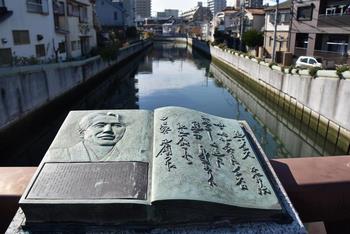 *There are many bridges over the Ebigawa River, and it is a walking spot in Funabashi.
See here for the Ebigawa Jusankyo Meguri (tour of the 13 Ebigawa bridges).
Okura Inari Shrine
During his time in Funabashi, Dazai had his photo taken in front of a stone inari fox statue, and this has been used as the frontispiece photo on his books.It is said that the place where the photo was taken was the Okura Inari Shrine in 4-Chome, Honcho, Funabashi.As you reach the end of the business quarters lined with bars and restaurants, a vivid red torii gate suddenly appears.This shrine continues to be carefully protected by the locals.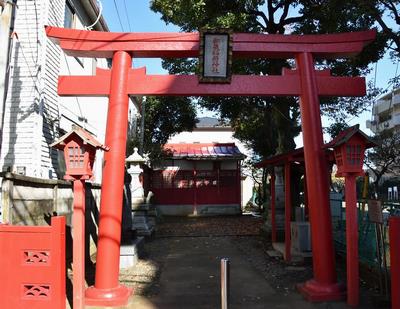 (Address) 4-31 Honcho, Funabashi
Great fondness for the Funabashi period despite hardships
During his time in Funabashi, Dazai wrote works such as Das Gemeine, Chikyuzu (World Map), the Mekura Short Stories, Kyoko no Haru (False Spring), and Kyogen no Kami (Fake God) and published his first collection of short stories, Bannen (The Late Years).Simply looking at his achievements may make you think that it was a fulfilling period of writing for him, but in fact he faced a steady stream of adversities.
Desperate desire for the Akutagawa Prize
In August 1935, a month after Dazai began his life in Funabashi, the winner of the 1st Akutagawa Prize was announced.Although Dazai was a candidate, he lost to Tatsuzo Ishikawa for Sobo (The Public).Dazai, who desired recognition in the literary world and was impatient to turn his debt-ridden life around, desperately wanted the prize, and he was most certainly devastated by the loss.He famously published an anger-filled letter to Yasunari Kawabata who was on the selection panel.He also sent a letter to Haruo Sato, another member of the selection panel, pleading for the 2nd Akutagawa Prize.
His efforts were fruitless, and no winner was chosen for the 2nd Akutagawa Prize.Dazai who is today famous and widely popular as a writer, was never able to fulfill his dream of winning the Akutagawa Prize.
Publication of his first short story collection
In June 1936, about one year into his stay in Funabashi, Dazai published Bannen (The Late Years) as his first short story collection with the Sunagoya Shobo publishing company.He chose the Bannen (The Late Years) for the title despite it being his first book.This is characteristic of Dazai who was strongly conscious of death even at his young age.Although Dazai intended on moving to Funabashi to recover from his painkiller addiction, his symptoms did not improve and his health continued to deteriorate.
Hospitalization and leaving Funabashi
To save Dazai whose addiction to the painkiller Pavinal was becoming worse, his family and friends encouraged him to check himself into a hospital.On October 13, 1936, Masuji Ibuse finally convinced him, and Dazai checked into the Musashino Hospital in Itabashi, Tokyo, thus ending his time at his house in Funabashi.During his time in Funabashi, he failed both to defeat his illness and to become a popular writer.Despite this, he says the following in his later work.
Excerpt from Jugonenkan (Fifteen Years; 1946)
"I have the greatest love for my house in Funabashi-machi, Chiba."
"The day I had to leave this house, I remember crying and shamelessly begging someone, saying, please!Let me spend one more night in this house. It was I who planted the oleander tree at the entrance. It was also I who planted the Chinese parasol tree in the garden."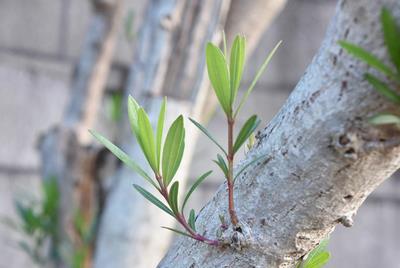 The oleander tree Dazai planted continues to sprout new branches even today.
We have no way of knowing today why Dazai said that Funabashi was his most beloved place.About 80 years have passed since Dazai left Funabashi.
Still, many places with connections to Dazai and that are reminiscent of the environment in the early Showa days when Dazai lived here remain.
A long time has passed, but standing in those places, walking along those steps...
perhaps you will see a faint glimpse of the 15 months Dazai spent here.