Have fun and learn at the Funabashi Sanbanze Museum of Environment!
Learn all about Sanbanze that is the sea of abundance!
Sanbanze is a dry beach off Funabashi. We have received abundance from this beach that is well-known as an excellent fishing spot.
The Funabashi Sanbanze Seaside Park overlooking Sanbanze is a resting spot for Funabashi locals. It has vast tidal flats that are home to all sorts of creatures like crabs, hermit crabs, and waterfowl.
The Funabashi Sanbanze Museum of Environment opened on July 1 on the Funabashi Sanbanze Seaside Park grounds!
The Funabashi Sanbanze Museum of Environment is a place to have fun while experiencing nature and to learn about the environment.It has three zones: Know, Think, and Learn.
Tons of new discoveries await you here!
See the wide variety of sections, try activities, and learn all about environmental problems faced by Sanbanze and the rest of our planet as well as the variety of wild creatures living there!
Know Zone
The Know area teaches you all about Sanbanze that is Funabashi's sea of abundance.See what Sanbanze looked like from Edo times to the present and the creatures that lived there in displays including dioramas and videos.
The huge Wave of Discoveries diorama is about 7 meters tall! If you gaze upwards, it feels just like you are standing on the Sanbanze seabed. Take a peek at all the different kinds of creatures!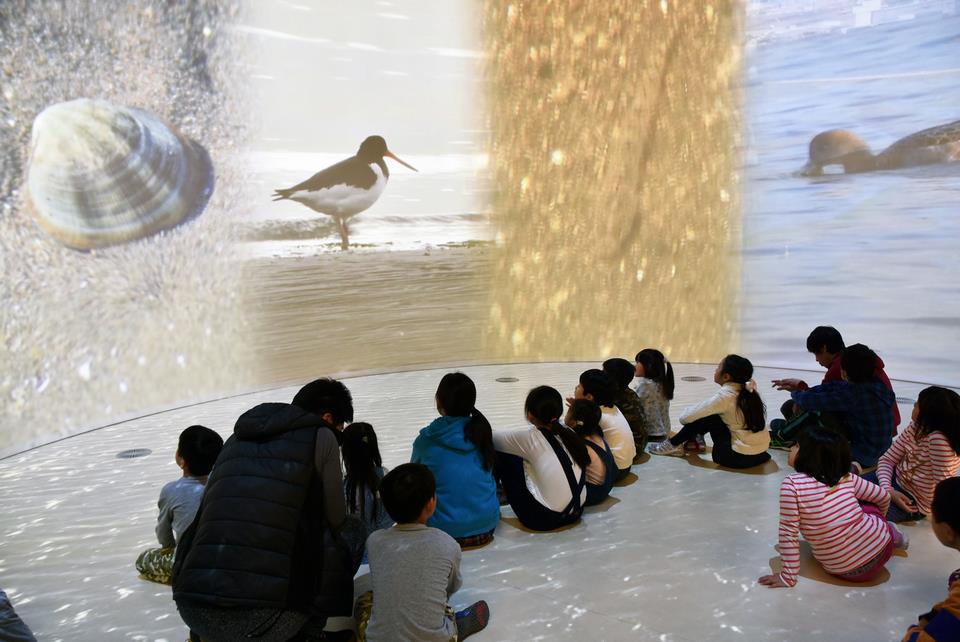 On the huge 180 degree-wide screen, you can experience the creatures of Sanbanze and their how they live and experience history!
Think Zone
This area lets you think about the food chain in the animal kingdom and the fishing industry.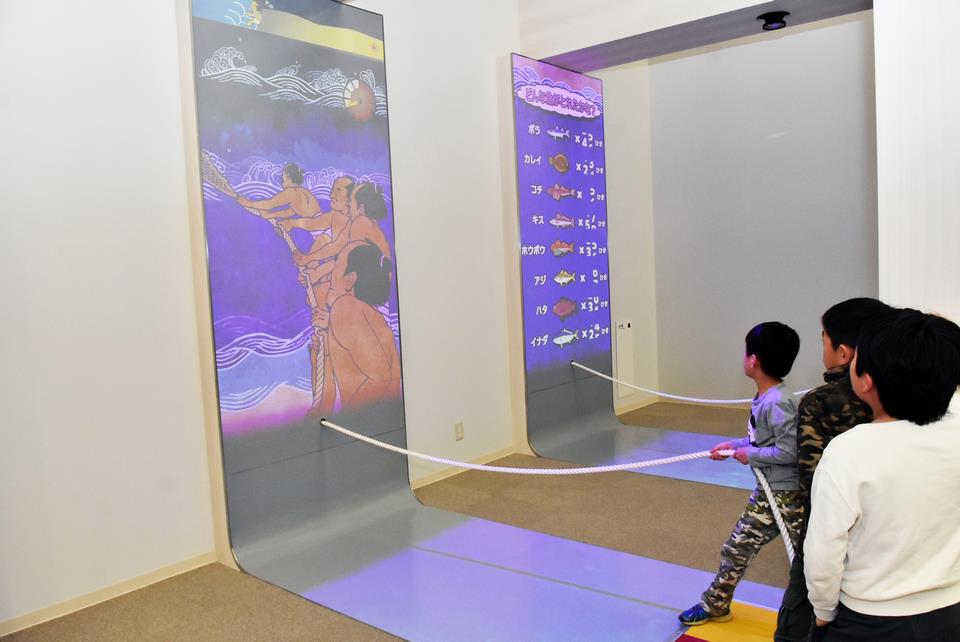 There are interactive learning games and models.Go back in time to Sanbanze in the Edo era when this was the Osainoura fishing ground that provided seafood to the Shogunate! In the interactive game where you move a fishing boat by stamping your feet and catch fish by pulling the rope, you can catch lots of fish and offer them to the feudal lord!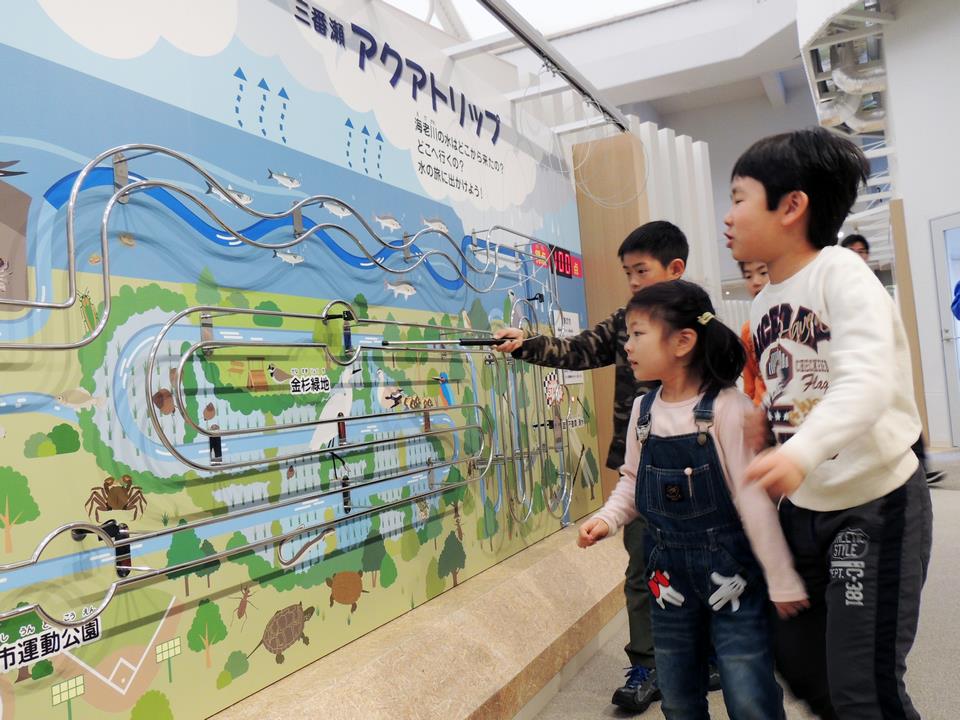 Follow the flow of water of the Ebigawa River that runs through Funabashi in a game using electrodes.How does the water that is essential for our daily lives and livelihood circulate? Have fun while learning!
Learn Zone
This area teaches you about Sanbanze in more detail through workshops and other activities.Information about the times and types of workshops is always posted on the Funabashi Sanbanze Museum of Environment website.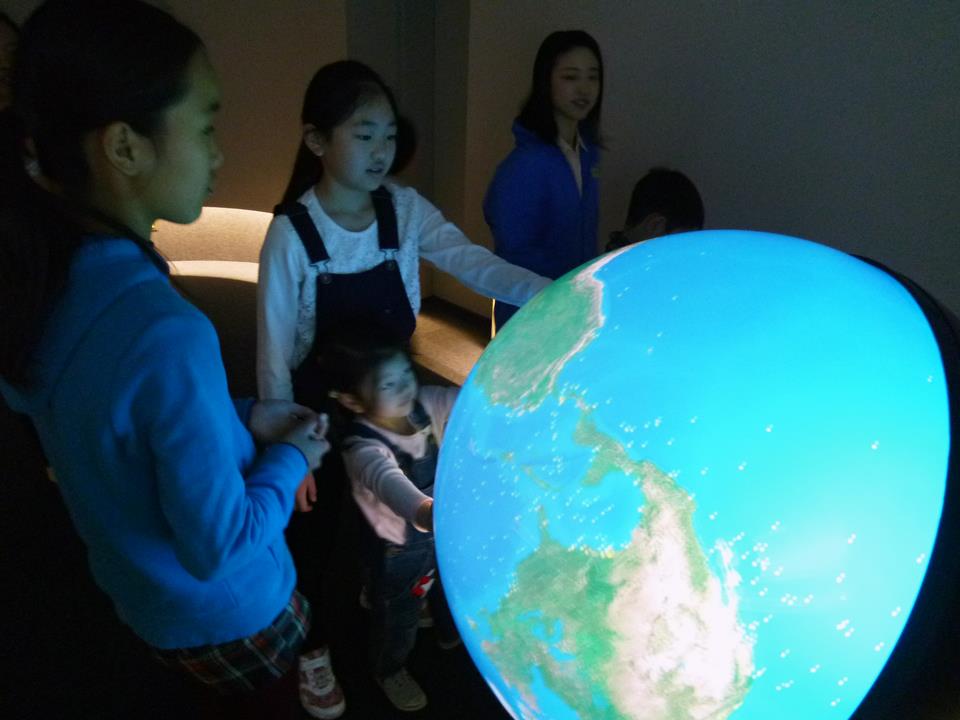 This mysterious globe teaches you about global warming, the developmental process of typhoons and tsunamis, and migration of migratory birds on a global scale. Come and interact with it yourself!
Use a microscope to observe creatures caught in the tidal flats that are right in front of you!Dedicated staff tell you all about their characteristics and habitat. There are also workshops that let you actually go to the tidal flats to learn!
Funabashi Sanbanze Museum of Environment
Address
40 Shiomicho, Funabashi (inside Funabashi Sanbanze Seaside Park)
Hours of operation
9 AM to 5 PM
Closed
- Mondays (following weekday when Monday is a public holiday) *Open on Mondays during summer vacation (July 19 to August 31)
- Year-end and New Year holidays (December 29 to January 3)
Admission
General: 400 yen
High school and university: 200 yen
Elementary and junior high school: 100 yen *Free for elementary and junior high school students living in Funabashi
Younger than elementary school: free
- Some workshops require a separate fee for materials or participation.
- The above fees are for admission to the Museum of Environment.Admission to Funabashi Sanbanze Seaside Park is free.There is also a free area in the Museum.
Parking
408 spaces 500 yen for regular vehicles, 2,160 yen for large vehicles (including micro buses)
*Reservations are required for parking large vehicles
*Extra parking spaces are set up during the clam digging season of Funabashi Sanbanze Seaside Park, but the park becomes very crowded in this season and parking may be unavailable.Please use public transportation.
Access
Take the Keisei bus bound for Funabashi Kaihin Koen (Funabashi Seaside Park) from the Keisei Funabashi Station bus stop or the Futamata Shindo bus stop (5-minute walk from the south exit of Futamatashinmachi Station). Get off at the last stop and walk 1 minute.
inquiries
047-435-7711 (9 AM to 5 PM) *Except when the building is closed (Mondays, day after public holiday, year-end and New Year holidays)