The Funabashi Citizen Festival
– The festival program is subject to change.
The Funabashi Citizen Festival: One of the largest festivals in Chiba Prefecture
It is a special summer event that attracts about 700,000 people.
The Funabashi Station area will become a pedestrian-only zone during the Fureai Festival
During the Funabashi Citizen Festival, a Fureai Matsuri festival is held in the Funabashi venue, located in the Funabashi Station area. There, parts of Ekimae-dori and Honcho-Miyamoto-dori streets in front of the South Exit of JR Funabashi Station will become a pedestrian-only zone.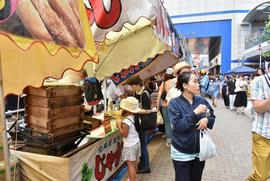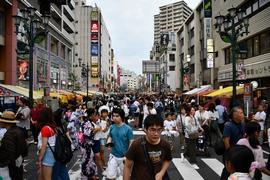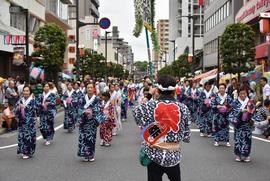 People clad in refreshing cotton kimono strolling along the streets lined with various stalls while enjoying food and drinks, yo-yo balloon fishing, and more make a traditional Japanese summer festival sight. Dancers performing Awa Odori fill Honcho-dori Street, and the Citizens' Dance Parade also passes through the streets. Visit the venue to feel the dancers' energy, and be recharged from the depths of your body. It's the most exciting time of the year in Funabashi.
Famous Funabashi event not to be missed: Violent side-to-side swinging of portable shrines (yusuri-komi)
The parade of large portable shrines is a must-see at the Funabashi Citizen Festival. Funabashi once thrived as a fishing town. In this parade, men valiantly carry two portable shrines (Honcho Shrine and Minato-cho Shrine) from different locations to the venue. While their sheer size and ornate decorations are remarkable, truly exciting to watch are those heavy portable shrines getting violently swinged from side to side like fishing boats swaying violently on the sea. The shrine carriers continue to march with stirring shouts while onlookers give them a rousing cheer. The sight of the sturdy carriers violently swinging the shrines with loud shouts and sweat on their forehead is not to be missed.
The carriers of the two portable shrines simultaneously enter the scramble intersection in front of the South Exit of Funabashi Station and pass each other while violently swinging their shrines as if competing in their levels of enthusiasm and energy devoted to the event. Come and take a look at this powerful moment.
A local silly face dance: Another must-see
Another essential element of the Funabashi festival is a silly face dance. This local performing art has been handed down for generations by the residents of this once-thriving fishing town. Dating from the Meiji era (the late 19th century), local residents learned the dance from dancers who were invited from Kasai (in Tokyo), Saginuma (Narashino City) and elsewhere.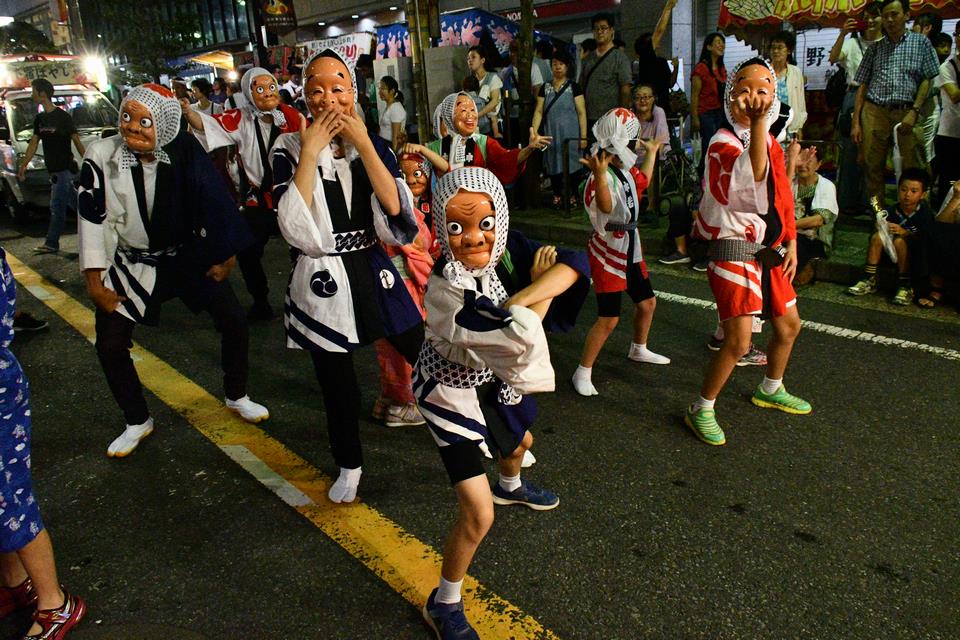 This dance embodies prayers for safe fishing and good catches while warding off evil spirits. In a sharp contrast with the forceful parade of portable shrines, the silly face dance is comical. A group of dancers wearing silly face masks, such as clownish and plumpy cheeked faces, dance with distinctive gestures along the street to rhythmical music. They are lovely and visually impactful.
A flea market with many booths selling refreshments
The Funabashi Citizen Festival includes a "Joy & Shopping Fair," held along Honcho-Miyamoto-dori Street. The fair centers around a local residents' flea market and also includes stalls selling food and drinks, and dance and music stage performances. These delight children and adults alike.
Nakayama, Narashinodai, and Futawamukodai venues filled with excitement
Funabashi Citizen Festival also includes venues at Nakayama (in front of Shimosa-Nakayama Station), Narashinodai (in front of Kita-Narashino Station), and Futawamukodai (in front of Futawamukodai Station). They teem with the excitement of street fairs, stage performances, and more.